QCT5 Pro gives you more creative control over your quilted patterns. Design and edit any pattern, even trace them from your favorite photographs. Create simple or intricate pantographs, and so much more!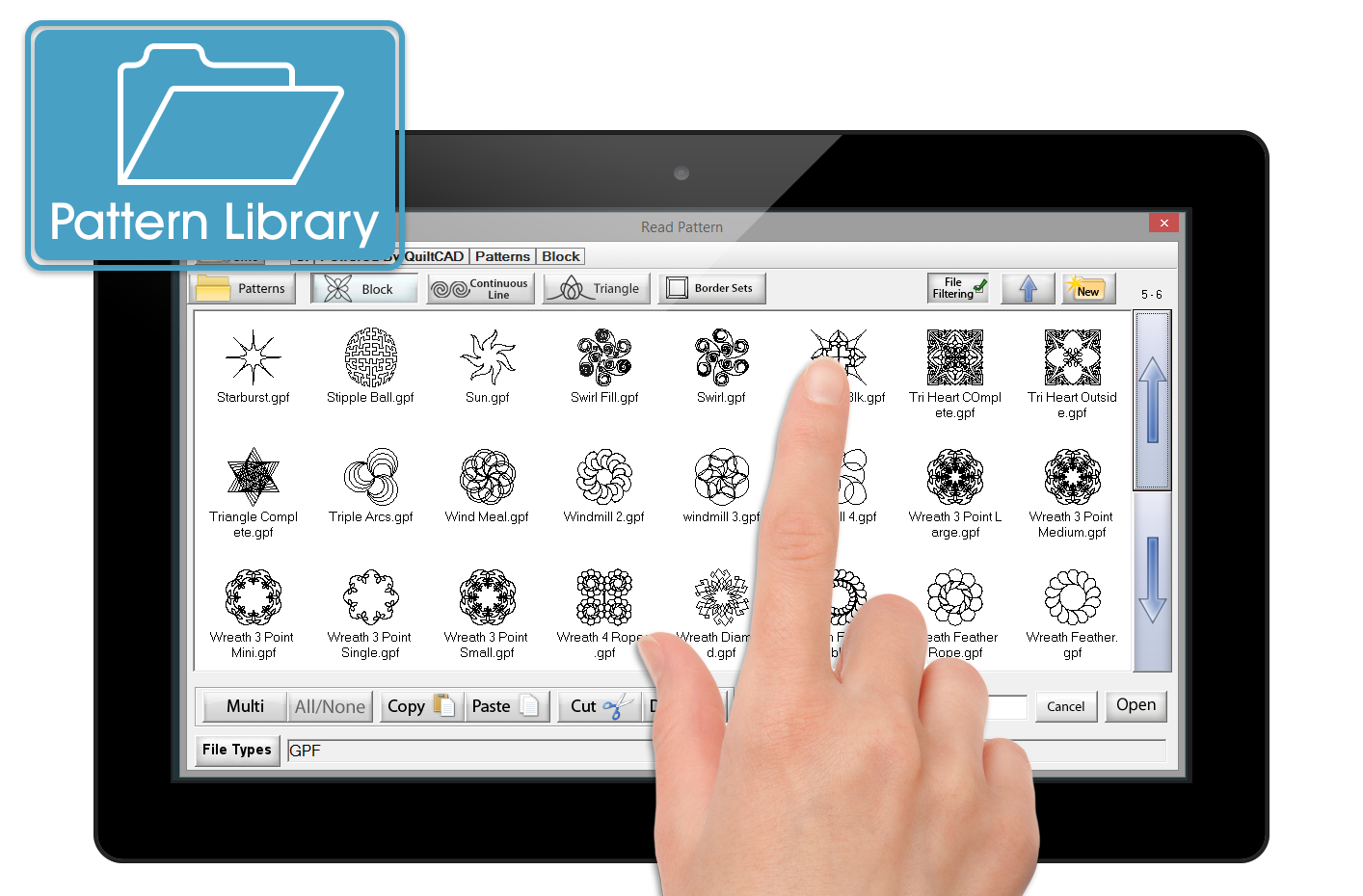 Expansive Pattern Library
The included pattern library contains over 200 patterns from which to choose. You can use these pre-defined patterns, or more advanced users can create their own or import patterns downloaded from other sources. Now you CAN replicate that dream pattern.
Precise Placement Methods
The user-friendly screen allows you to precisely align your pattern in relation to your quilt directly on-screen using 7 different methods. You physically set the pattern with your machine and can preview the output based on your method. No square ruler or complex math required.
Automated Quilting In Your Own Home
The QuiltMotion motor plate and hardware come bundled with Quilter's Creative touch 5. QuiltMotion controls your sewing machine to accurately stitch your quilt designs.
Easy Pantograph Rows
PantoStacker creates single rows or alternating, staggered double rows that can then be used to sew an entire quilt. Pick a mode, and, depending on your subscription level, you are given different levels of adjustment of the pantograph size, as well as the patterns inside the pantograph. Easily get perfect alignment without ever touching a yardstick!
Pattern Design
Need more flexibility than the pre-built designs? From simple lines to complex designs, there are numerous options to achieve the optimum results. You can modify pre-defined patterns or start completely from scratch. With PatternCAD, the only limit is your imagination.
Quilt Layout
If you want to design an entire quilt layout, there are some options that can only be covered in this section. If you want intricate layouts with different blocks throughout your quilt, look no further. Create beautiful masterpieces with QuiltCAD.
Trace Photographs
Import any photo on your system into PatternCAD and you can trace it to reproduce on your quilt. Simply click as many points as you wish to outline your image and use the design just as any other pattern. Beautiful portraits and stunning images are as easy as point, click, sew.
Record Free Motion
Trace a pattern or have the software record your motion to sew or save for a later time. Start, edit, stop, re-record. This is the ultimate in designing your original work.