The HUSQVARNA® VIKING® DESIGNER SAPPHIRE™ 85 sewing and embroidery machine will inspire you to settle into your favorite nook and create the next chapter of your sewing story. With many industry-leading features, you'll be captivated by its advanced technology.
The Husqvarna Viking Designer Sapphire 85 sewing and embroidery machine's top features include:
Over 620 embroidery designs incorporating 30 specialty techniques
5 embroidery fonts each in different sizes from 10 to 80mm
Over 680 stitches up to 54mm wide and exclusive stitch techniques including Pop-up Stitches, Sequin Stitches, Applique Stitches, Yarn Stitches and Theme Stitches
Features of the Designer Sapphire 85
Large 8" Color Touch Screen
Easy to navigate through various screens using multi-touch gestures.
Drag and drop on screen, zoom, rotate, pinch, swipe and spread, just like on any tablet or smartphone.
Large (8", 177x99mm ) full-color capacitive touch screen.
High resolution (1024x600)
Smart toolbox for easy editing; one-touch access to the most used tools.
User-friendly interface with everything at your fingertips.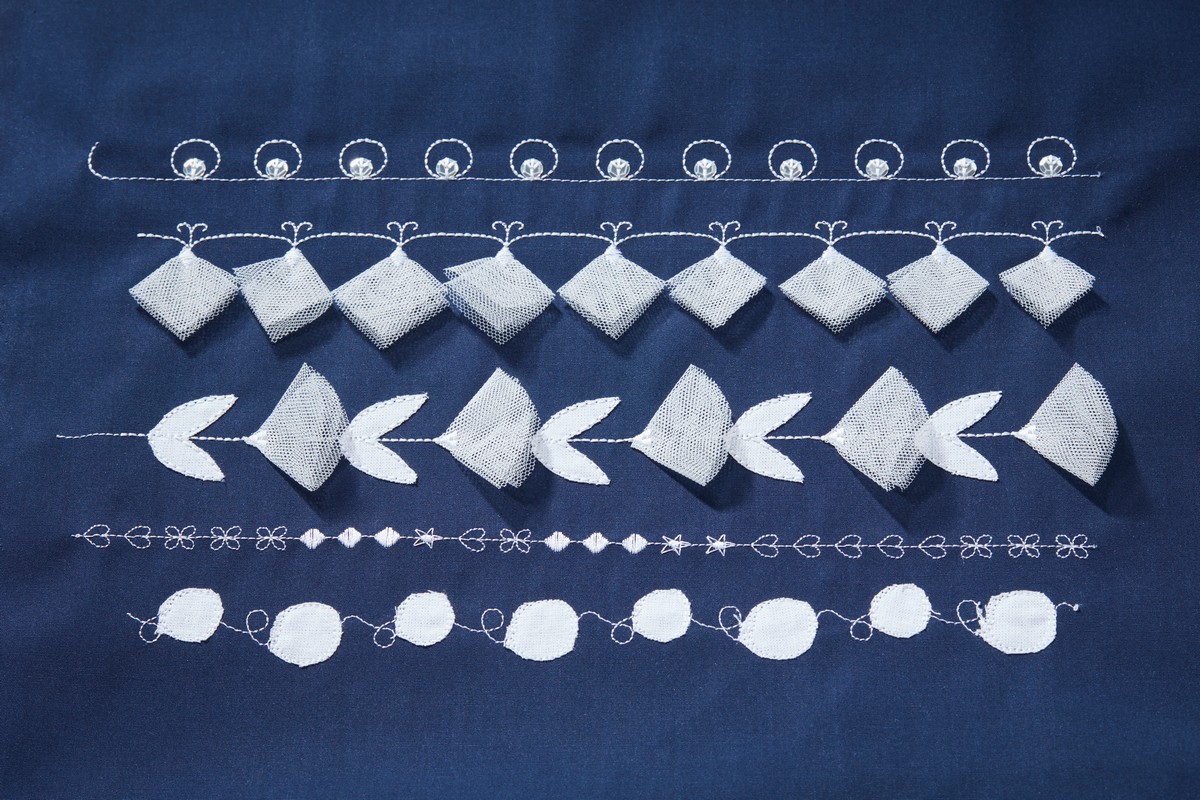 Extensive Selection of Built-in Stitches
Customize any project with exclusive patented stitch techniques giving your project dimensional elements that are effortless and irresistable. 680 stitches up to 54mm wide and exclusive stitch techniques including Pop-up Stitches, Sequin Stitches, Applique Stitches, Yarn Stitches and Theme Stitches.
deLuxe™ Stitch System
Less time and effort spent on machine adjustments with high quality results regardless of fabric and thread type. Perfect for metallic and other specialty threads. Gorgeous stitch results on both sides of the fabric.
Exclusive Sensor System™
Automatically and continuously senses and adjusts to any thickness of fabric for perfect, even feeding as you sew.
mySewnet™ Enabled
WiFi Access
Connect to mySewnet apps, update your machine, wirelessly transfer designs between devices, and more.
mySewnet Subscription
Enjoy full access to thousands of embroidery designs directly on screen with mySewnet Library and create and edit your own designs with the first ever subscription-based embroidery software service. Enjoy a free 90-day trial of mySewnet Silver subscription with purchase of the Sapphire 85 machine.
mySewnet Software
With the complimentary software you can customize designs on your computer: Flip, Rotate, Combine, Change color, ColorSort and more. For more creative features consider the first and only subscription based mySewnet software services.
mySewnet Cloud
Get a free mySewnet cloud account to store and transfer designs and use free apps.
mySewnet Blog
Enjoy a live feed directly on your screen of news, free projects, and free designs.
Free Apps Available
Use MySewMonitor to receive notifications from your machine or assist with design placement, QuickDesign will allow you to create designs from your tablet or smartphone and the JoyOS ADVISOR app is like having your machine with you anywhere you go.
JoyOS ADVISOR™
Interactive Tutorials
Learn how to sew collars, hems, exclusive stitch techniques, insert zippers, stitch out beautiful embroidery designs, and more.
Sewing Instructions
Sewing and embroidery projects with step-by-step instructions built in.
Step-by-Step Workbook
Learn the amazing features of the machine like Design Positioning, Design Shaping, and more.
Easy access User's Guide
Get access to the full User's Guide directly on the machine with the easy access icon. Use the search function to effortlessly find to the topics you want to learn more about.
Stabilizer Guide
The perfect tool when choosing the right stabilizer for your project.
Quick Start Guide
Learn how to set up your machine for basic sewing and embroidery to get stitching sooner.
Accessory Guide
Full set-up instructions for some of our more advanced accessories.

Click here to view the specification sheet (.pdf)

Click here to view the product brochure (.pdf)
Questions? Give us a call at 541-267-2241 or visit us at 988 S Broadway, Coos Bay, OR 97420 to see it in action!