Skip Navigation
Website Accessibility
Grace Qnique 15 Pro Bundle
Please call us at 541-267-2241 or 1-800-ELE-HOSP for any questions.
Why wait for delivery? Local pickup is easy and free, just select "FREE In-Store Pickup" or "FREE Curbside Pickup" at checkout.
The Grace Qnique 15 Pro is an excellent stitch regulated machine that makes free motion quilting easy. The process of quilting by moving the machine over the quilt fabric is intuitive, like drawing with a pencil on paper. You'll be amazed at how much this increases stitch accuracy and control.
The new Q'nique 15 Pro delivers high value for its price point with the most sought-after features, top-of-the-line quality, and user-friendly operation, all in an affordable midarm quilting machine.
The Q'nique 15 Pro features new advancements like a more powerful motor, capable of faster stitching speeds, which is perfect for more detailed, intricate stitching. Of course the stitches are also kept consistently the same length thanks to the built-in stitch regulation. No need to worry about longer or shorter stitches as you cruise through your patterns.
The Q'nique 15 Pro also comes with a beautiful large touch screen, with simplified user-friendly menus and powerful new features to make quilting even easier.
Features of the Qnique 15 Pro
Full Color Touch Screen
With the touch of a finger, you can navigate the user-friendly menus and adjust settings on a bright, full-colored 2.5 inch display. Tilt the screen to the most comfortable position for your wrist and then lock it in place.
LED Sewing Lights
The Q'nique features high powered, daylight color–balanced LED work lights to illuminate your projects while quilting. You can even control the light brightness.
Built-in Stitch Regulation
Keeps your beautiful stitches consistently the same length. As you speed up or slow down in your movements, the machine will speed up and slow down its stitching speed, so you won't have to worry about some stitches being longer or shorter than others.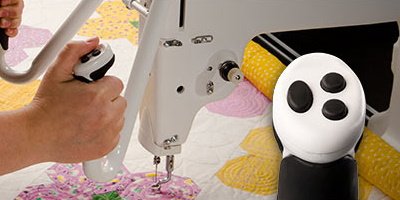 6 Quick-Access Buttons
The quilting machine is designed to be as quilter-friendly as possible. All major functions and settings can be controlled right from the handles and seen on the display.
Easy Access Bobbin
The bobbin of the Q'nique quilting machine has been designed for easy and quick access. Changing or checking on your bobbin is now more user–friendly than ever.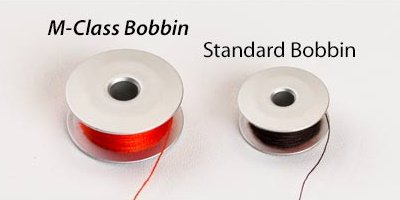 Large M-Class Bobbin
The Q'nique Quilter comes standard with a large class M Bobbin. This lets you quilter for longer periods of time before needing to change or refill your bobbin.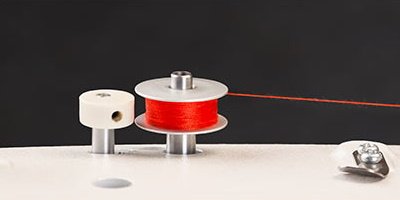 Built-in Bobbin Winder
The included bobbin winder on the Q'nique Quilter runs its own separate, built–in motor, so you can refill bobbins without having to run the sewing machine.
Questions? Give us a call at 541-267-2241 or visit us at 988 S Broadway, Coos Bay, OR 97420 to see it in action!