A mid-arm machine fills that "just right" spot between a domestic sewing machine and a long-arm quilter. Until now, however, the mid-arm buyer had to sacrifice many of the sought-after features that were only available in more expensive professional machines. The Q'nique Quilter 15R includes all those desired professional features all with an affordable mid-arm price level.
The Q'nique Quilter 15R has a 15-inch throat space to accommodate large patterns and blocks. It is compatible with many different quilting frames. The 15R is also compatible with Quilter's Creative Touch Software, bringing the possibility of a computer automated quilting system in your own home.
A built-in stitch regulator keeps the stitch-length beautifully consistent, and controls the stitching speed to match faster or slower movements of the quilting machine. This machine can operate at a stitching rate of 1800 stitches per minute. All the main settings can be controlled from the handles by using six quick-access buttons. A clear, full-color LED display on the front of the machine keeps every setting easily visible.
The Q'nique Quilter 15R is packed with features in an accommodating size at an attractive price. This mid-arm quilting machine combined with the skill and creativity of a modern quilter is sure to result in beautiful and satisfying products for the home or business.
Features of the Qnique 15R
LED Sewing Lights
The Q'nique features high powered, daylight color-balanced LED work lights to illuminate your projects while quilting. You can even control the light brightness.
Built-in Stitch Regulation
Keeps your beautiful stitches consistently the same length. As you speed up or slow down in your movements, the machine will speed up and slow down its stitching speed, so you won't have to worry about some stitches being longer or shorter than others.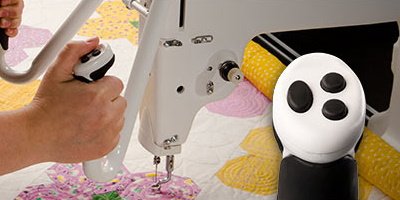 6 Quick-Access Buttons
The quilting machine is designed to be as quilter-friendly as possible. All major functions and settings can be controlled right from the handles and seen on the display.
Easy Access Bobbin
The bobbin of the Q'nique quilting machine has been designed for easy and quick access. Changing or checking on your bobbin is now more user-friendly than ever.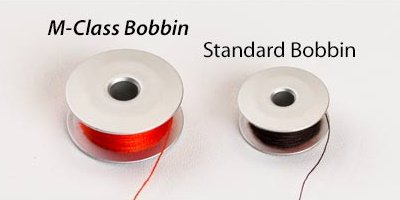 Large M-Class Bobbin
The Q'nique Quilter comes standard with a large class M Bobbin. This lets you quilter for longer periods of time before needing to change or refill your bobbin.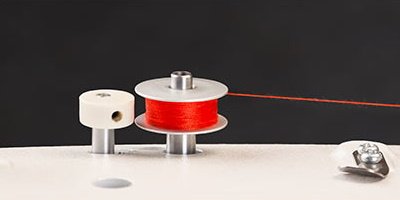 Built-in Bobbin Winder
The included bobbin winder on the Q'nique Quilter runs its own separate, built-in motor, so you can refill bobbins without having to run the sewing machine.
Questions? Give us a call at 541-267-2241 or visit us at 988 S Broadway, Coos Bay, OR 97420 to see it in action!