Give your quilting projects the royal treatment on the Regalia - Baby Lock's largest longarm machine yet! With 20" of workspace and a lighting-fast 2,500 stitches per minute, the Regalia is ready to easily finish quilts of any size. It features a built-in Stitch Regulator that ensures smooth, precise stitching for a harmonious finish.
Large 20" Workspace
As a longarm machine, the Regalia's larger workspace allows you to stitch freely without worrying about limitations.
Adjustable Front Handlebars
Effortlessly control the motion of the Regalia with the comfort grip front handles that are independently adjustable and extendable.
7" Color Touchscreen with On Screen Handwheel
Set and easily read Stitch Control Features with the large, color LCD screen. The onscreen handwheel raises and lowers your needle without having to reach around the machine.
Large "M" Class Bobbin
Enjoy fewer bobbin changes with the largest bobbins available in quilting (up to 40% larger than standard bobbins). Plus, with variable speeds on the electric bobbin winder, you can easily wind thread of different types and weights.
Quick Set Tension
Easily adjust upper thread tension and view your settings on the digital LCD readout.
Built-in Stitch Regulator and Needle Beam
The Regalia has built-in stitch regulation so you can quilt smooth, even-length stitches. Whether you choose the speed settings of Cruise Mode or the ability to make hard pauses without interruption with Precision Mode, the Regalia has both. The Needle Beam highlights your needle position so you know exactly where your next stitch is.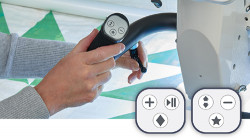 Push Button Features
Change the stitching speed, start and stop the Regalia, or place the needle up or down with buttons directly built into the programmable handles.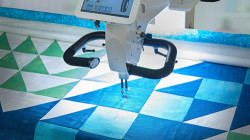 LED Lighting
Long-lasting, high intensity LED lights illuminate your workspace so you can see every detail on your quilt.
5, 7, 10, or 12 Foot Kinetic Frame Included
Rugged metal construction and smooth carriage movement ensures your new Regalia has the ideal platform for quilting perfect memories. No matter how much room you have, the Regalia can fit right at home.
Pro Stitcher Robot System
With the powerful Pro Stitcher automated software system, you have the ability to fully customize your next quilting project. Simply select your desired design, edit to your heart's content, then sit back and allow Pro Stitcher to automatically stitch your quilt right before your eyes.